HDM-GA1 Gigabit Accelerator Makes 4K Upgrades Easy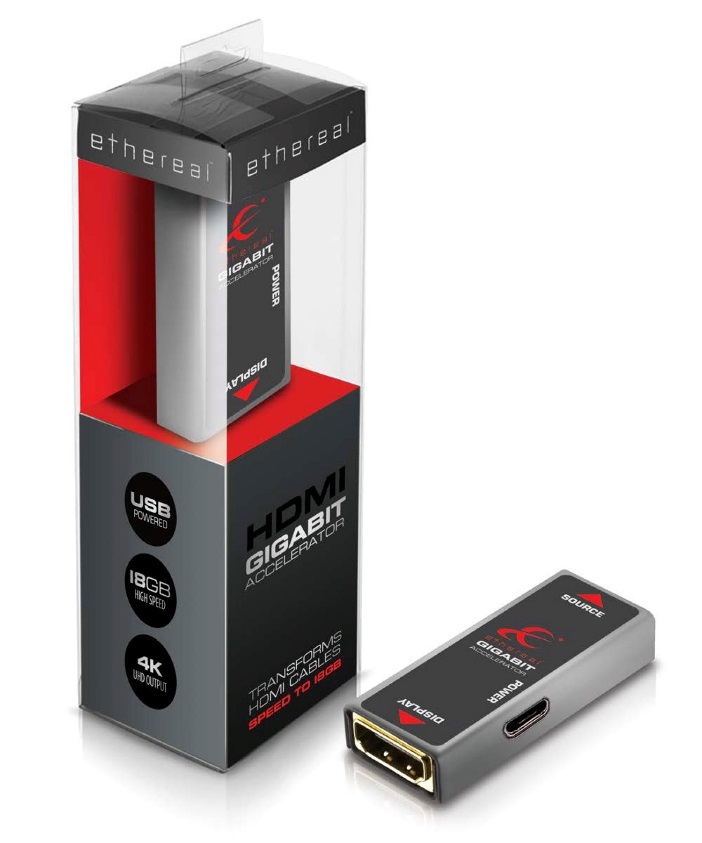 HOLLY HILL, Fla. – December 1, 2015 – Metra Home Theater Group, a leading provider of home theater products and accessories, announces the Ethereal HDM-GA1 to its lineup of products. The Ethereal HDM-GA1 Gigabit Accelerator allows the installer to utilize existing in-wall passive HDMI® cables up to 15 meters in length to upgrade and support the full 4K/60, 4:4:4, HDR signal now available in many video products.
The compact in-line Gigabit Accelerator has a 2" by 1" aluminum chassis that is powered from an external USB power supply through a USB mini connector - and is simple for anyone to install. The HDM-GA1 rebuilds the video channels to a level that exceeds the HDMI 2.0A standard while repairing the data timing clock channel. The simple 'plug and play' device from Metra takes micro-technology and transforms any quality 24-gauge passive cable up to 15 meters to 4K with full signal integrity. This new innovation from Metra gives dealers with a very simple way to upgrade current installations to the latest 4K technology, meeting 4K/60, 4:4:4, HDR standards with existing HDMI cables.
Read More