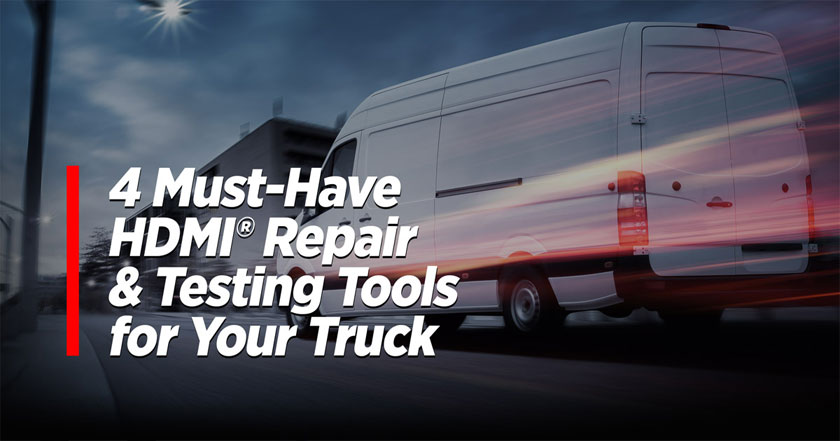 4 Must-Have HDMI® Repair & Testing Tools for Your Truck
We know how challenging it can be to get so close to finishing an integration job only to find a compatibility issue between your HDMI® electronics. You were almost ready to pack up and leave but now you're staying late to troubleshoot a black screen, audio dropouts, or other error messages that could mean a number of things. Or worse, you finish up only to get that dreaded phone call that now the system isn't working and you're needed back on the job.
We know this situation all too well. In fact, it's the reason why our team developed our award-winning HDMI repair tools. These solutions, plus a few other handy tools, are on our list of "must-have" items that every custom integrator should keep on their work truck. Not only will they get you out of a bind, but they will help prevent you from having to go back to the job site. These tools are an investment to save you time and money to prevent unplanned overtime and unnecessary truck rolls from eating into your profit margin. Below are the top four tools the MetraAV tech team recommends keeping in your work truck at all times.
This is our most popular repair device because it can resolve the vast majority of HDMI problems. The HDM-JR3 strips capacitive loading off of the DDC (EDID) Bus to reduce the Data Rise Time and improve the consistency and reliability of the low-speed communications. It is small and easy to install, usually at the source side, with no extra cables needed. Working with 8K? Not a problem. This product supports 48Gbps (4 x 12 Gbps per channel) and it has bi-directional EDID repair for both the input and output stages.
HDM-JR3 Specifications:
EDID capacitive stripping
Plug and go performance
Corrects most common EDID problems, including:

Audio Dropouts
"Mode not Supported"
"Frequency out of Range"
Allows for Faster input switching
Impulse synchronization
Tech Tip: Start with this tool and see if it fixes your problem. If it does, then you know it was due to EDID. If not, then move on to the next item we recommend for your toolbox...