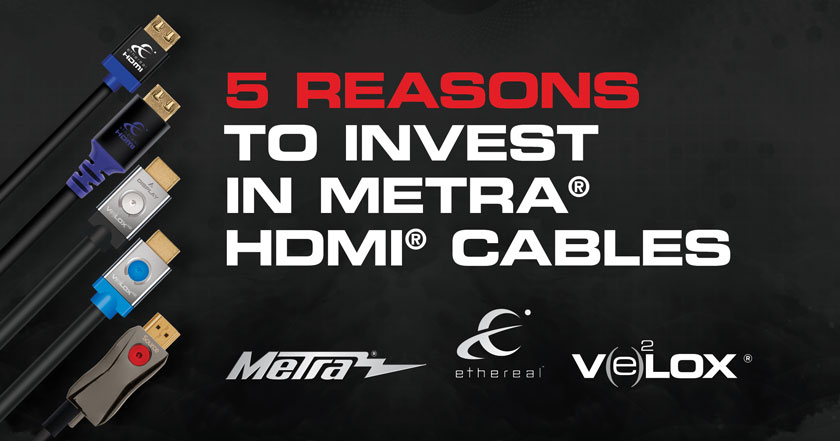 Experience the True Performance Potential of Your System
If you're investing in a 4K or 8K HDR/Dynamic HDR system, you'll also need to invest in the right HDMI® cables for this system. Otherwise, you'll never actually experience the true potential of what is available and may end up seeing a reduced quality image that might not be much better than what you were getting before your upgrade. (Download our latest 8K Whitepaper for more on this). But how do you know which brands are worth the price tag? We've outlined our top 5 reasons why high-quality HDMI cables from Ethereal® are worth their investment.
Quality of Materials & Construction

Cheap cables can impact performance in a number of ways, producing timing errors, an unreliable signal, or resulting in failure after a short period of use. Metra's materials, engineering, and ultra-premium construction for Ethereal cables are second to none. Our Velox™ series takes it a step even further to manufacture the most reliable cables on the market for long run projects.

Compatibility

Ethereal cables are designed to reduce the possibility of EDID errors and voltage issues commonly seen when used with certain displays, cable boxes, or satellite boxes. Our cutting-edge technology ensures a wider range of compatibility between HDMI enabled devices. Learn more about the technology inside our Velox passive, Velox active copper, Velox fiber series, Ethereal MHX, and Ethereal MHY cables.

Future-Ready

Metra planned and prepared for 4K and 8K years ago, designing cables so that they could equally carry data on all four channels in preparation for HDMI 2.1. Many of the 18/24 Gbps cables that we have sold for years will take you into the future for 4K and beyond. Velox even has fiber HDMI cables capable of supporting 48Gbps bandwidth up to 100 meters!

Consistent Reliability

"They just work!" Third-party testing from DPL Labs ensures that our cables meet and exceed the strict criteria for certification, giving installers confidence in their choice to use Ethereal products in their projects. Metra's partnerships with major manufacturers like Sony, JVC, BARCO, Sound United, and many others provide even more assurance that our products are trusted to work with a wide range of industry-leading electronics.

Lifetime Warranty & Support from a Solutions-Based Company

Ethereal cables are backed by a limited lifetime warranty and supported by our knowledgeable tech team. By partnering with a solutions-based company, rest assured that you can pick up the phone and have direct access to our development team to solve any issues or answer even the most complex of installation questions. We also have a library of videos created by our tech team that helps installers with solving everything from simple HDMI errors to learning all the ins and outs of HDMI cable construction. Subscribe to our YouTube channel to see more.