The increasing demand for smart home automation, surveillance and technology requires running more wires. Whether it's an existing home or a new home construction, running more wires is a huge undertaking. The former CIs in Metra Home Theater Group's Research and Development department anticipate a shift to a more complicated installation process, with more wires requiring more ports. As the future of installation projects becomes more difficult, we will be ready with time saving solutions for home technology professionals, customer integrators and installers. Taking what we've learned on the job from real projects requiring more ports, we've developed a simple solution: the Decora Style Multi Port (CS-PCDEC08).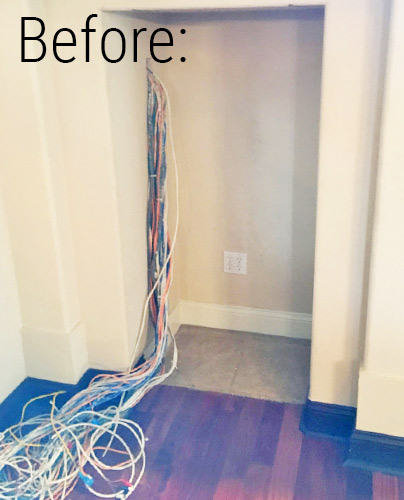 The Challenge:
The more wire you have, the more ports you need. Custom wall plates with more than 6 ports are hard to find. Organizing and hiding all the wires can become a real challenge. Applying drywall to cover large holes made for the wires requires additional costs and even more time. When a customer is in a rush to move in or finish a project, extra time for drywall may not even be an option.
The Solution:
Our CS-PCDECO8 is an 8 port decora insert panel made out of durable heavy gauge steel and powder coated. Metra Home Theater Group is one of the few (if not the only) providers of an 8 port panel plate, and we've designed this larger plate to cover existing holes.
This photo is from a job where the new home had wire run that needed to be organized before the customers moved in. The after photo shows the 8 port panel in place.
Read More