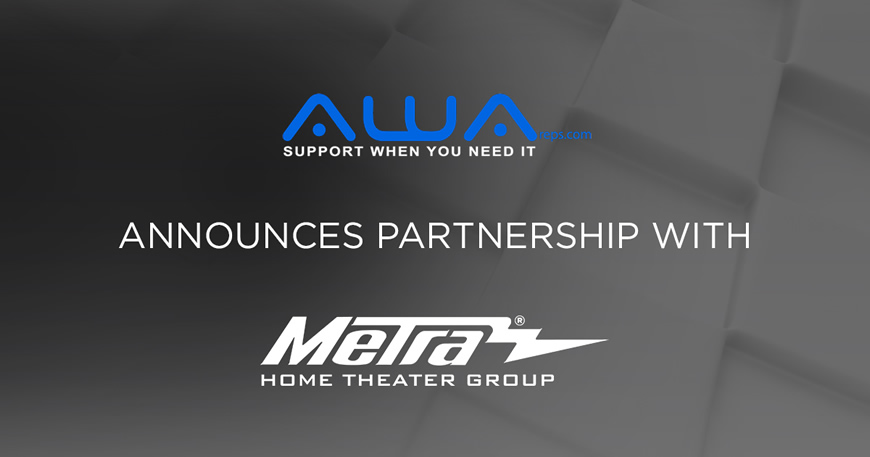 Metra Home Theater Group (MHTG) is excited to announce that the AWA Rep Firm will be their new representative firm in the midwest region of the United States. AWA Rep Firm works hard to "close the loop" in the sales evolution from manufacturer to distributor, distributor to dealer, and finally dealer to end-user. They see themselves as an extension of the business they represent, in this case, MHTG. Austin Wendt, Principal of AWA Reps, is confident that they are the right fit for MHTG since Metra provides security products as well as AV products to consumers. "What separates AWA from other firms, besides our service, is that we are involved in both Security and AV. Other firms only work within one or the other," states Wendt. "We are just scratching the surface with our AV Division and are looking to partner with the right brands for today's CI Integrator, " adds Andy Spolar, Director of Sales.
Adding AWA Rep Firm, with their dual involvement in both worlds, will be a tremendous benefit to MHTG, and will provide connections to grow MHTG's existing network and generate new clientele. This new partnership will add to MHTG's existing team of talented field representatives, serving the midwest region. "Our Spyclops brand of surveillance system products is ideal for AWA's security division, while our Ethereal, Velox, Helios and The Install Bay product lines will work well for their AV division," says Jessy Crabb, General Manager for MHTG. "We look forward to a great long-term relationship with AWA and providing more support for customers in the midwest region," she added. AWA's territory for MHTG will cover Minnesota, Wisconsin and Illinois.
About AWA Rep Firm
AWA Reps is a Professional Manufacturer's Rep Firm based out of Illinois. It provides sales and support for all channels: Security Distribution, AV Distribution and CEDIA Direct Channel. It was founded by the Principal, Austin Wendt, in 2009 with a vision of becoming the premier Rep Firm within the Midwest. When AWA began, they were focused only on the Security Distribution Channel but in 2017 expanded into the CEDIA Channel with brands such as Screen Innovations, Origin Acoustics and Wolf Cinema. With a growing vision for the CEDIA Channel, Wendt brought on Andy Spolar as a managing partner for the AV Division. Since this partnership, AWA has brought on manufactures AVPro Edge, Crimson AV, Connect-Air Cable and now Metra Home Theater Group.
About Metra Home Theater Group
Metra Home Theater Group (MHTG), a pioneer in HDMI cable technology, is a division of Metra Electronics, the world leader and "The Installer's Choice" for vehicle installation kits and car audio accessories for more than 70 years. Headquartered in Florida, MHTG's brands include Ethereal Home Theater, Helios and Spyclops Surveillance Systems. Metra's strong commitment to research and investment into the development of cutting-edge solutions has a history of providing first-to-market solutions for HDMI cables and electronics. Its Velox Active HDMI 30 Meter Cable was recognized as the Top Long-run Copper HDMI Cable at the 2017 CEDIA Expo. Connect with Metra Home Theater Group on Facebook, Twitter, Instagram or LinkedIn. For ordering information and pricing, visit MetraHomeTheater.com or call 386-255-0234.