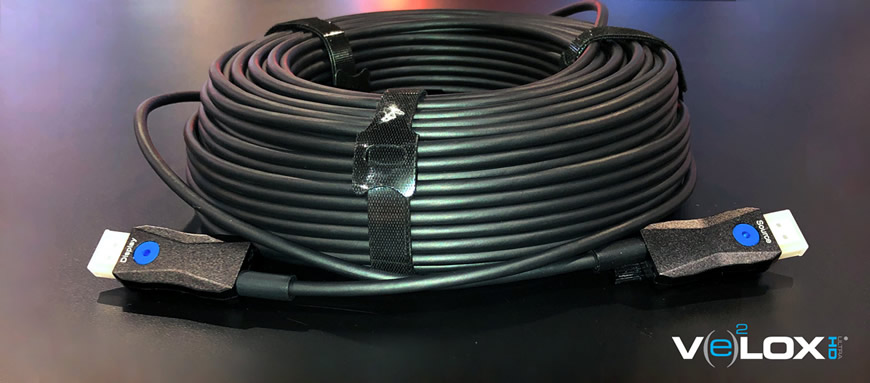 Metra Home Theater Group (MHTG) is showcasing a new series of long-distance Velox fiber HDMI cables at the 2019 CEDIA Expo. These ultra high speed cables are engineered with an expected bandwidth capability up to 48Gbps for 8K content*. The EHV-HDG2 Series from Velox will be available in lengths from 10 to 100 meters, or 32.8 to 328 feet.
MHTG's workshop at CEDIA, "The HDMI Cable Faceoff" demonstration, will show attendees firsthand how the Velox cable's ultra-premium construction and high-tech engineering results in clean, reliable performance for the demands of higher bandwidth content. Brent McCall from MHTG and Jeff Boccaccio, president of DPL Labs, will give a live demonstration of the Velox fiber cable's bandwidth performance during the MHTG workshop on Thursday and Friday at 1:00 PM at booth 1338. Attendees will be entered into a drawing for free product giveaways following the conclusion of the workshop and must be present to win. Additional information about the workshop is available at https://www.metrahtg.com/cedia-2019/.
"8K is the big talk of the AV and home theater industry, but getting there will be a challenge for integrators," says Jessy Crabb, General Manager of Metra Home Theater Group. "While we are still waiting on the official CTS to be released, we know that the massive increase in bandwidth required for 8K has posed a serious problem for systems with long-run cables. Metra Home Theater Group has been working hard to develop new technology to resolve this and is excited to show integrators the next generation of premium Velox fiber HDMI cables at the CEDIA Expo. This new series will allow integrators to provide solutions engineered for the future of high-end, longer run home theater systems that will require 8K performance. For systems with passive HDMI cables already in the wall, our HDM-GA2 Gigabit Accelerator is another tool we will be showcasing during our workshop that can upgrade cables to 48Gbps*. Overall, we will have connectivity solutions for every project requirement and budget and invite integrators to our workshop with DPL Labs so that they will know when to use each product most efficiently, while also witnessing live demos of our product's performance capabilities," she added.
This cable series is expected to ship soon. For more information about the Velox ultra-premium product line from Ethereal Home Theater, visit MetraHomeTheater.com/brands/velox or head to the MHTG booth 1338 at the 2019 CEDIA Expo.
Product Specifications:
Expected capability of 48Gbps* bandwidth for uncompressed ultra high speed video performance
Expected capability to support up to 8K resolutions, designed at 12Gbps per channel x 4 channels*
Includes ethernet
Supports all color subsampling
Supports Dynamic HDR
Backward compatible with HDMI 2.0 and HDCP 2.2, and all earlier versions
24K gold plated corrosion-resistant contact connectors
Multi-layer shielding to prevent electromagnetic interference, maximizing noise isolation and protecting components from HDMI ultra low speed emanations
Input impedance of 100 ohms
CL listed for in-wall installations and powered with USB on display side
*As of this date, Compliance Test Certification (CTS) for HDMI version 2.1 has not been officially released. Specifications will be confirmed after the CTS for HDMI 2.1 has been released and the cables can be tested and certified.
About Metra Home Theater Group
Metra Home Theater Group (MHTG), a pioneer in HDMI cable technology, is a division of Metra Electronics, the world leader and "The Installer's Choice" for vehicle installation kits and car audio accessories for more than 70 years. Headquartered in Florida, MHTG's brands include Ethereal Home Theater, Helios and Spyclops Surveillance Systems. Metra's strong commitment to research and investment into the development of cutting-edge solutions has a history of providing first-to-market solutions for HDMI cables and electronics. Its Velox Active HDMI 30 Meter Cable was recognized as the Top Long-run Copper HDMI Cable at the 2017 CEDIA Expo. Connect with Metra Home Theater Group on Facebook, Twitter, Instagram or LinkedIn. For ordering information and pricing, visit MetraHomeTheater.com or call 386-255-0234.