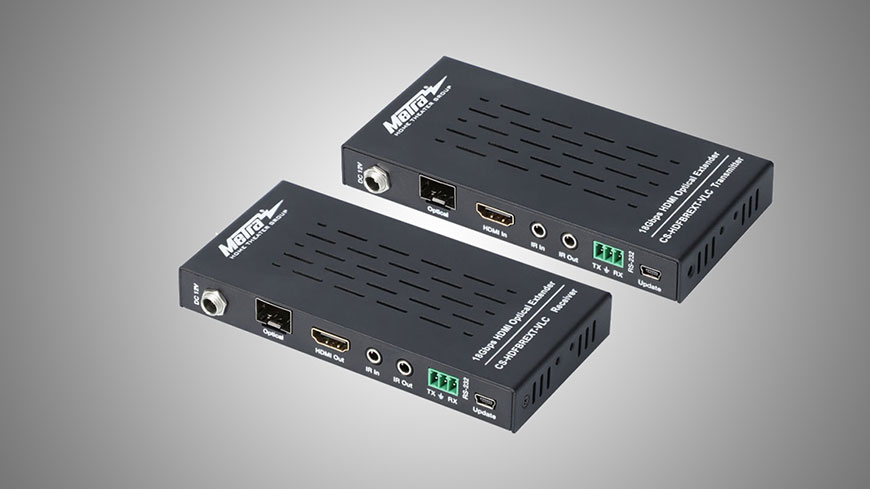 Metra Home Theater Group (MHTG) announces the release of a new Fiber HDMI Extender that supports 4K/HDR at CES 2020. The product allows an installer to extend an HDMI signal up to 300 meters (984 feet) over a single strand of multi-mode OM3 fiber optic cable with LC connectors while still maintaining 4K/HDR resolution at 18Gbps bandwidth. This device complements the new bulk fiber and fiber termination tools that MHTG unveiled at CEDIA 2019, allowing integrators to take 4K/HDR even farther.
The HDMI Extender Over Fiber (CS-HDFBREXT-VLC) supports HDMI 2.0 and HDCP 2.2 with resolutions up to 4K@60Hz HDR. The extender is capable of sending control signal with its RS-232 pass-through connectivity, supports bi-directional IR, and includes an IR emitter and receiver. For added convenience, mounting tabs are included in the packaging with the device to provide additional flexibility for placement during installation.
Look for this new product on display at CES from January 7-10 at booth 11435 in the Central Hall of the Las Vegas Convention Center. For more information, visit MetraHomeTheater.com.
About Metra Home Theater Group
Metra Home Theater Group (MHTG), a pioneer in HDMI cable technology, is a division of Metra Electronics, the world leader and "The Installer's Choice" for vehicle installation kits and car audio accessories for more than 70 years. Headquartered in Florida, MHTG's brands include Ethereal Home Theater,Heliosand Spyclops Surveillance Systems. Metra's strong commitment to research and investment into the development of cutting-edge solutions has a history of providing first-to-market solutions for HDMI cables and electronics. Its Velox Active HDMI 30 Meter Cable was recognized as the Top Long-run Copper HDMI Cable at the 2017 CEDIA Expo. Connect with Metra Home Theater Group on Facebook, Twitter, Instagram or LinkedIn. For ordering information and pricing, visit MetraHomeTheater.com or call 386-255-0234.