The 2016 CEDIA Show was an impressive experience for the staff of Metra Home Theater Group. This year's theme to "Think Big" for the future of business was apparent in all aspects of the show, from the innovative products to the training sessions and speaker topics. As the world's premier showcase for home technology, we were excited and inspired by all of debuting products and news of what is on the horizon for our industry. We met a lot of amazing people at our booth while introducing our newest products and innovations. The enthusiasm from attendees didn't slow down, as we had a constant flow of traffic all three days of the show. In case you didn't get to travel to Dallas, here are the highlights of our exciting CEDIA Show:
Lunch 'N Learn. Our annual Lunch 'N Learn event with Jeff Boccaccio, President of DPL Labs, has become a highly anticipated CEDIA tradition. This year Jeff discussed HDR, 4K Deep Color, and fiber interoperability in his two part presentation series, "Making the Jump". Both sessions had the highest attendance to date with standing room only, overflowing into the aisles.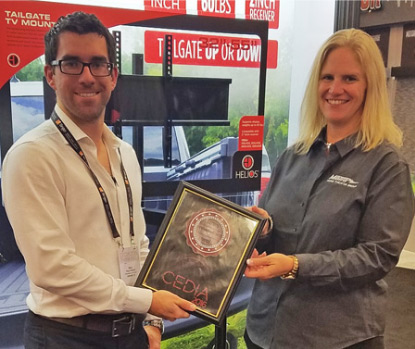 Award Winning Products. Metra Home Theater Group won a CEPRO Best award for the second year in a row, this time for our new Velox HDMI Fiber System. The Velox HDMI Fiber System, available in various lengths ranging from 20 to 100 meters, allows integrators to efficiently install the latest 4K technology in traditional home theater configurations. To show the difference between 4K/Deep Color and SD, the Velox HDMI Fiber System was used in our booth to simultaneously broadcast a movie to two displays; one in 4K/HDR and the other in SD. Our Helios Tailgate TV mount also brought home the Fun & Function Award from Innovation & Tech Today's Editor picks for being the best TV mount that struck them as something that was both original and practical.
Award Winning Customers. Our international customers, Zene Private Theater, brought home a prestigious CEDIA Global Award for Best Home Theater.

Industry 18Gbps Partners. We were proud to see top industry leaders using our cables in their CEDIA booths, in addition to their installation projects. These industry leaders were not shy to say that without our cables, their products didn't work. It was a great validation of the 4K education campaign Metra Home has been supporting.
As a manufacturer of premium home theater products, we thrive for shows where attendees are just as excited about our new technology as we are. This year's CEDIA show had more excitement than ever! If you would like to discuss any of our new (or existing) products further, authorized dealers can speak directly with one of our technicians at 1-866-839-9187. Not a customer? Apply to become a Metra Home dealer today.