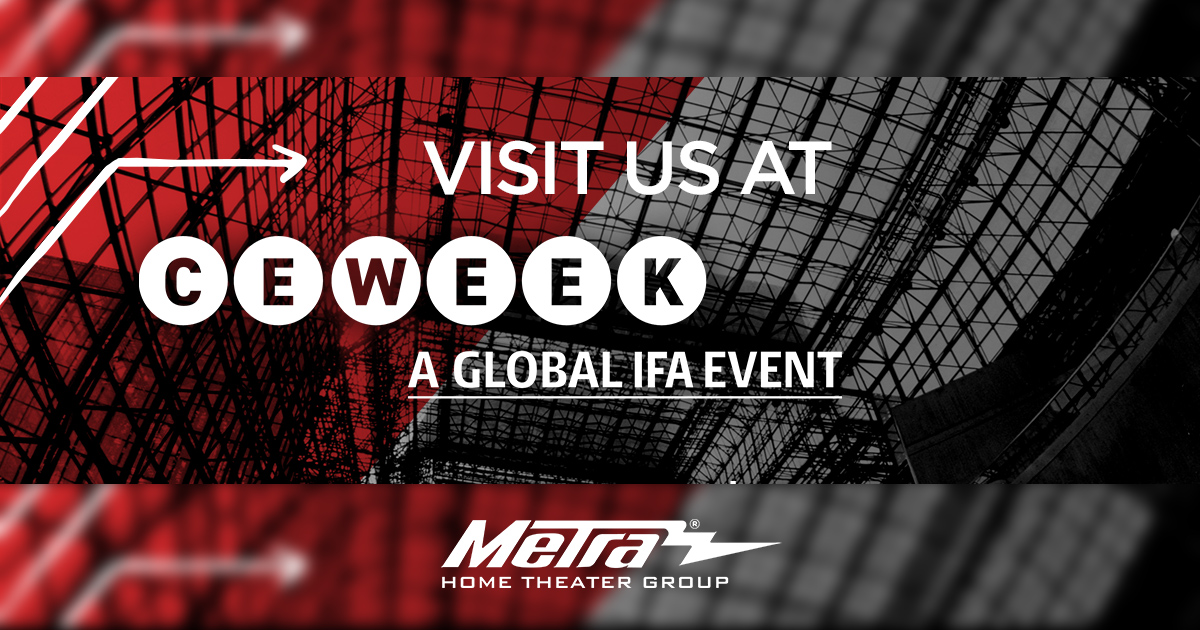 When experts assemble this week to judge the "King of TVs", the products connecting those electronics must deliver the best quality and be completely dependable for an accurate contest. Metra Home Theater Group® (MHTG) is honored to once again connect the displays of the 2019 TV Shootout at CE Week with their products and HDMI® cables. It isn't easy to put the best Ultra HD TVs on the market in a contest against each other, and not just in front of an audience, but a panel of experts, reviewers and calibrators from around the world. All the eyes of the AV world are watching every detail and judging its outcome. Behind the scenes, the contest is relying on the connectivity of MHTG's trusted HDMI cables to showcase the TV's true performance potential.
About CE Week and the Annual TV Shootout
CE Week, held this year from June 12-13, is the epicenter for creating connections, inspiring innovation and showcasing emerging trends and insights. For the last 15 years, CE Week has been gathering experts together to judge the year's best displays in a TV Shootout, hosted this year in New York City, New York by Value Electronics. This annual contest helps consumers, influencers and everyone in the media world, including the general public, know which TV is the best of the best in 2019. Judges will score each television side by side for performance in several categories, including its black level, color accuracy, color saturation, color volume, colorimetry, contrast ratio, resolution, motion artifacts and overall picture quality.
The AV Challenge
MHTG is no stranger to being the manufacturer trusted for performance when it matters most. Having proven themselves reliable for CE Week's TV Shootout in years past, they have once again stepped up to provide the support to connect each TV in the 2019 contest. The TV outputs require a flawless delivery from each component in the system in order to accurately provide a non-biased review of every TV display. This year's shootout will also feature the latest technology, allowing for higher bandwidths of 4K and even 8K resolutions. High-quality content must be delivered simultaneously to all the displays without loss of quality. The most challenging aspect will be distributing the same signal to each TV in HD, UHD, and UHD with HDR. All signals distributed to each TV need to be in the proper format, timing, bit depth, color space, proper HDR signal and bandwidth. This contest can take several days to prepare in advance and is no small feat. MHTG is proud to use their trusted and award-winning HDMI cables for the shootout. MHTG's ultra-premium series of home theater cables feature innovative technology with first-to-market products that continue to push the limits of what integrators can do with 4K, 8K and beyond. These cables deliver a verified 24Gbps signal for higher resolutions, frame rates and colors over HD interconnects using the latest patented module technology with proprietary capabilities developed by Metra Home Theater Group.
Metra Home Theater Group will also be showcasing their products in the exhibit hall during this event. Attendees are invited to visit their booth #417 to learn more. Stay tuned for updates from CE Week and the winner of the Annual TV Shootout. For more information on MHTG products and connectivity solutions, visit MetraHomeTheater.com
About Metra Home Theater Group®
Metra Home Theater Group® (MHTG), a pioneer in HDMI® cable technology, is a division of Metra Electronics® , the world leader and "The Installer's Choice"® for vehicle installation kits and car audio accessories for more than 70 years. Headquartered in Florida, MHTG's brands include Ethereal Home Theater®, Helios® and Spyclops Surveillance Systems®. Metra's strong commitment to research and investment into the development of cutting-edge solutions has a history of providing first-to-market solutions for HDMI cables and electronics. Its Velox Active HDMI 30 Meter Cable was recognized as the Top Long-run Copper HDMI Cable at the 2017 CEDIA Expo. Connect with Metra Home Theater Group on Facebook, Twitter, Instagram or LinkedIn. For ordering information and pricing, visit MetraHomeTheater.com or call 866.839.9187.