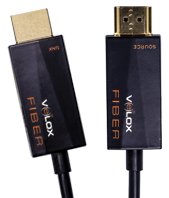 Velox
Active Fiber Cables
The new Velox Fiber System answers the long distance 18 Gbps transmission question Loud and Clear. Unlike installing with the other Fiber products that are currently available, there is no need for the integrator to worry about "whether or not" the system is going to work. In order to assure the most reliable and robust Fiber system available to the integrator, Metra Home Theater has taken a close look at all of the Fiber products out there and we have determined what it takes to not only carry the full 18 Gbps of bandwidth, but to also ensure compatibility between the source and display.
How do we accomplish this?
Built into every Velox Fiber System are the same EDID repair tools that we have been using for over 10 years in our HDM-DAD & HDM-JR HDMI products. Research has proven that many accessory devices are still being built with older DDC components which in some cases will not communicate with other devices. To correct this, we've added technology to combat any voltage shift errors that may occur over the DDC (EDID) lane by automatically shifting the required voltage levels in a smooth and seamless fashion to adapt these older systems with the more state if the art DDC electronics.
HDMI 2.0a compliant
HDCP 2.2 compliant
Bandwidth: 18Gbps
Cable Type: Active Optical Fiber Cable
CL Listed for in-wall installations
Connector Type: HDMI Type Male/A
Power: 3' Micro USB Cables
Input Impedance: 100 ohms
Supports resolutions up to: 4K@60,
All Color Sub-sampling Supported (4:4:4, 4:2:2, 4:2:0),
Deep Color, and HDR
Lengths: Available in 25, 30, 50, 75 and 100 meters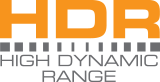 Active Optical Fiber
VELOX Active Optical Fiber Cable - 25 Meters

VELOX Active Optical Fiber Cable - 30 Meters

VELOX Active Optical Fiber Cable - 50 Meters

VELOX Active Optical Fiber Cable - 75 Meters

VELOX Active Optical Fiber Cable - 100 Meters